Pictures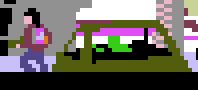 Contributor: M@xtimot
Comments
Author
Message




M@xtimot



2017-06-05 19:43
Small hatchback car with windows right next to the hatch opening on a place situated on the USA. I know it's hard to tell accurately, but I think it's safe to say it's a Pacer.




michail_2003



2017-06-03 14:14
How do you identify it?
Add a comment
You must login to post comments...