Pictures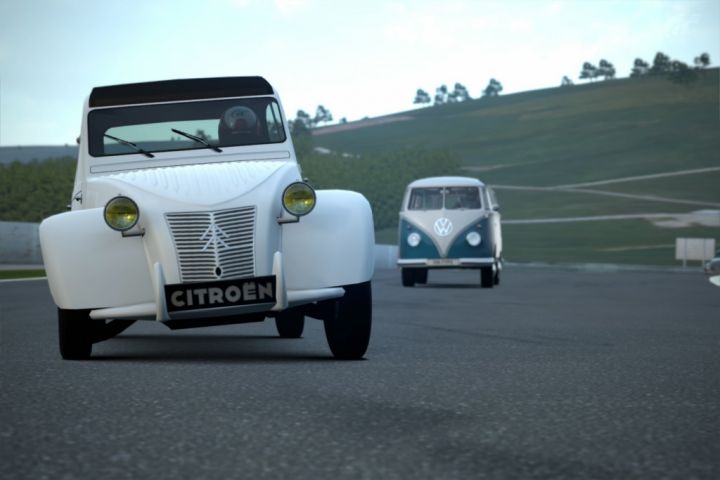 Contributor: Noko Tau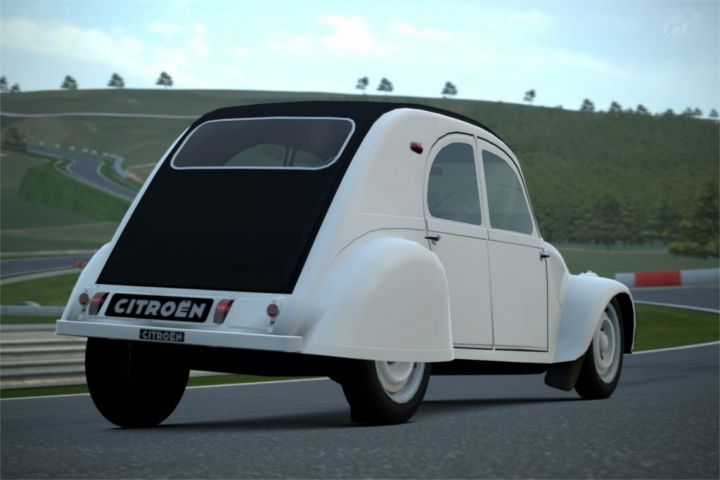 Contributor: Noko Tau
Comments
Author
Message




Noko Tau



2016-04-27 00:41
Alternative shots:
orig04.deviantart.net/1d41/f/2016/117/d/5/2cv_005_by_truemouse-da0gpac.png

orig14.deviantart.net/3c46/f/2016/117/8/0/2cv_006_by_truemouse-da0gqg8.png

And yes that's the Red Bull short ring, and yes that's the Beginner Seasonal (450pp), and yes that's a 2001 Honda NSX that's just been put into 2nd by a CitroŽn 2CV Type AZ, and no, I'm not being a troll.

Let me explain.

If you want to attempt this the trick is to forget the power. This is not your run of the mill stiffened race machine. Soften the hell outta the suspension, plan your approaches and exits carefully, find your rhythm, don't collide with traffic, use the ORZ's if you have to (remember that in F1 the only rule they have regarding over run zones is that you keep all four wheels in the box when passing the lineĻ) don't slow down and keep on the accelerator at all times.

NEVER BRAKE. I cannot stress this enough. After the chicanes before the back straight you'll notice you'll be catching up when they're braking far too early and far too hard. If you follow these guidelines you should be able to take 14th out of 16 on your first try. Then it's a matter of practise for you to find your own rhythm and you'll get ahead of the traffic and eventually ahead of the AI's 'Hero' car.

You should see real 2CV racing some time and you'll see what I mean. Search for "Sparrow 2CV" on Youttube (yeah it's got a BMW R Series but it's still an air cooled flat twin bike engine and most important the running gear is all stock.) And for those few who actually liked my jumping shots . . . look up "Seppe's Jump" on Youttube.

Ļ just double checked that. There's been a recent change in F1 rules. The revised regulations for 2016 states drivers ďmust make every reasonable effortĒ to stay within track limits and must have a ďjustifiable reasonĒ if they do leave the track. I think "Not colliding with and killing other drivers and myself" counts as a "justifiable reason".

-- Last edit: 2016-05-03 18:22:55




Noko Tau



2016-04-07 03:58
CitroŽn 2CV Type A , from July 1949 to July 1959, 375cc, & 8 bhp
CitroŽn 2CV Type AZ, from Oct 1954 to Oct 1955, 425cc & 10Ĺ bhp

Before all this however The Type A should have an oval around the chevrons on the front grille, the car Polyphony have made clearly doesn't. The car that Polyphony think is a Type A is in fact a Type AZ.

Of course that's not the only inaccuracy they've committed.

1) The handbrake on a 2CV should work on the front wheels, not the back wheels.

2) The 2CV's front brakes are inboard to reduce unsprung weight and so, nomatter if it's disc or drum, you wouldn't see them anyway.

3) Tiny little inaccuracy concerning the shape of the floor pan. The widest point should be at the b pillars, not the C pillars.

4) The rear license plate and tail lamps are completely wrong. The License plate should be split with a light in the centre of it illuminating both halves equally. Like in this picture.

[img]2cvhobby.free.fr/2CVAZ(L)1954(1956).JPG[/img]

5) WHAT THE HELL HAPPENED TO THE FUEL FILLER CAP? I mean I know these things don't run on much fuel (ten times around Tokyo SS7, flat out, on one tank) but come on! It was there in GT5 and even GT4, but I guess they didn't think it necessary in GT6.




Shinka Nibutani



2016-04-06 14:12
Type A. not AZ.
Add a comment
You must login to post comments...